ATTIRE:
• Girls - a nice dress
• Guys - suit and tie / dress pants, dress shirt, and blazer, etc
ROLE
Being a buddy is one of the most personal and hands-on serving opportunities. A buddy's role is to accompany and assist each of our assigned guests throughout the evening, engage them in conversation, laugh with them, make them feel special, tell them how great they look, etc. You are free to have your cell phone, but only use when needed. Please refrain from taking pictures of our guests the night of the event.
Your goal is to make guests aware of and assist them to the various opportunities provided during the night.
Such as:
• Dancing
• Food/Drinks
• Karaoke
• Limo Rides
• Glow/Bubble Rooms
• Photo booths
• Caricatures
• Beauty Rooms (for the girls)
• Shoe Shine (for the guys)
• Balloon Artist (Inside the food room)
• Calming Room
DURING THE EVENT
You will wait inside the Sanctuary and be seated until you are paired with a guest by a member of our team. Fill out the appropriate card with your information to exchange with the caregiver and our team who is pairing you.
Please help cheer our guests on who are walking the red carpet until it is your time to be a buddy! We want the auditorium to be an incredible atmosphere
Once introduced, you will receive a business card detailing any special needs/concerns that will be helpful to know about your guest. Please keep up with the card throughout the night.
Next, they will be given a corsage or a boutonniere by our flower team. YOU will be given a tiara or crown to place on their head then walk the red carpet.
We will have several professional photographers at the event, so as you are walking, people will be taking pictures Stop to smile periodically for a picture, but move quickly as we have lots of guests to get inside. Have fun with this and make your guest have a reason to smile!
DURING THE PROM
This night is all about your special guest. Feel free to help them step out of their comfort zone, but be mindful of them and don't push too hard. Your job is to make sure they have the best night ever!
Areas to Visit
• Dancing - spend most of your night in the main room dancing and having fun. Set the tone for the night. If you are having a blast dancing, so will they.
• Food/Drinks – Chick-Fil-A is providing dinner for everyone. Feel free to eat with your guest during the night. MAKE SURE YOU CHECK THE CARD TO SEE FOOD ALLERGIES. Chick-Fil-A does have limited options available depending on allergies. Please help us make sure the room stays manageable by redirecting them to other activities if it is full. After you have eaten please exit to make sure we have room for everyone to eat.
• Karaoke Rooms - After the video from Tim Tebow video and welcome, the 3 karaoke rooms will be open. Take your guest at some point in the night and ask if they'd like to sing. If the rooms are too crowded, sign them up with their favorite song and encourage them to come back a little later.
• Limo Rides - You will ride in the limo with your special guest. The rides will be a fun and special time for those attending.
• Sensory Room - This room will have black paper where guests can draw whatever they feel like… all with glow markers/pens.
• Photo booth pictures - You and your guest can take as many pictures as you'd like!
• Caricatures - Caricature artists are available to draw exaggerated sketches of guests.
• Beauty Room – Take them for a touch up in the beauty room. This is just another way to make them feel special!
• Shoe Shines – After a long night of dancing take them for a touch up.
• Balloon Artists – Artists will create sculptures for our guests.
• Calming Room – This room is a place for guests who are feeling overwhelmed and just need to relax.
At the end of the night, please meet up with the caretaker of your guests. Every guest will receive a Prom Party Favor Gift Bag at the exit. If they are not easily found feel free to contact the emergency contact on the card.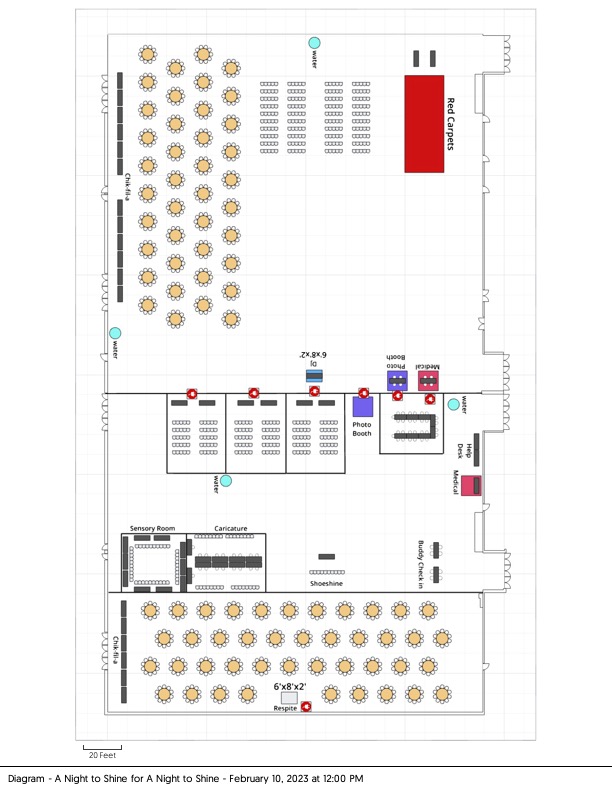 Night to Shine 2023 will be on February 10, 2023. We are excited to announce that Cox Business Convention Center will host. Located at 100 Civic Center, Tulsa, OK 74103.